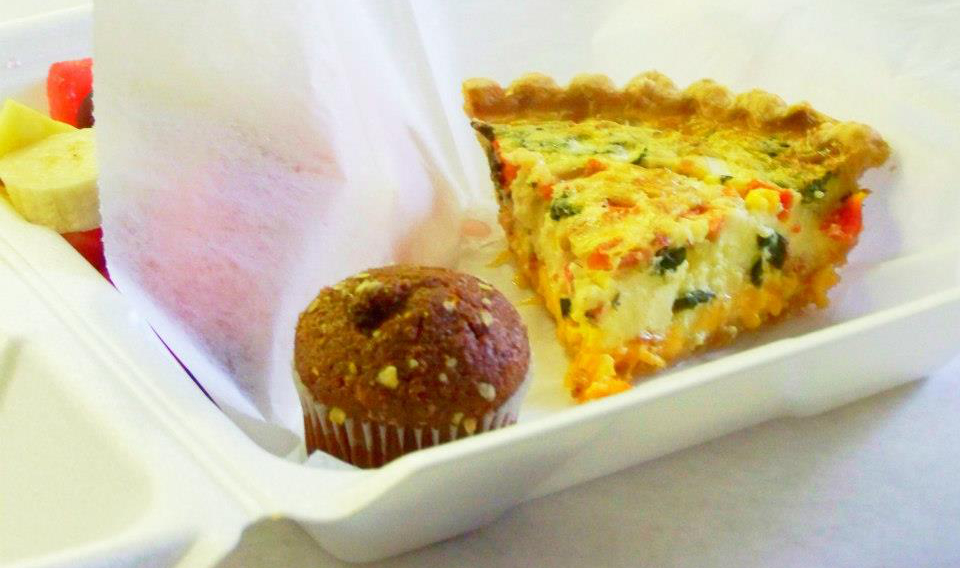 Quiche Plate 7.25
Dependent on availability:
Ham & Cheese, Bacon & Tomato, Spinach & Swiss or Crazy (bacon, spinach, tomato, onion, cheese). Served with a fresh fruit and a warm mini-muffin.
Quiche Slice 3.00
Breakfast Roll Up 7.25
Egg, cheese and your choice of sausage, ham or bacon. Add tomato, onion, spinach or any veggie of your choice. Rolled up in a flour tortilla and grilled.
For Whole-Wheat, Spinach or Tomato-Basil Tortilla add 25¢.
Served with chips or for fresh fruit add 75¢.
Sausage & Cheese Roll 1.50
Cinnamon Roll 1.25
Side of Fruit 3.00
Drinks
Coffee – sml: 75¢ lge: 1.00
Orange Juice – 1.75
Coke products – 1.25